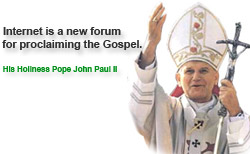 The Saint John Bosco Information System Ministry was founded in response to the Servant of God, Pope John Paul II call to use the Internet as new forum for proclaiming the Gospel (36th WORLD COMMUNICATIONS DAY)
"Surely we must be grateful for the new technology which enables us to store information in vast man-made artificial memories, thus providing wide and instant access to knowledge... and to the ideas and experiences of initiators and innovators whose insights bear constant witness to the faithful presence in our midst of a loving Father who brings out of his treasure new things and old." (cf. Mt 13:52)
John Paul II
World Communications Day

IF YOU ARE FAMILIAR WITH COMPUTER TECHNOLOGY CONSIDER JOINING OUR COMPUTER MINISTRY TO VOLUNTEER YOUR TIME TO HELP PASTORS WHO ARE IN NEED OF YOUR TALENT

We invite you to become a member
Find out ways how you can help your parish!
The Catholic Church needs your help!
CATHOLIC PARISH TECHNOLOGY SUPPORT
INFORMATION TECHNOLOGY MINISTRY
Helping parishes evangelize in this technology age.

OUR MISSION IS TO ENCOURAGE PARISHES TO USE OF TECHNOLOGY AND BECOME MORE EFFECTIVE AND EFFICIENT IN COMMUNICATING AND ASSISTING THE PARISH COMMUNITY

MISSION STATEMENT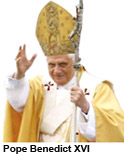 To assist parishes to use technology efficiently in carrying out theirmission to proclaim the Gospel.

To help parishes with evangelization using technology and internet capabilities in support of parish ministries.

To establish a nationwide network of technology-skilled volunteers in support parishes utilizing new technology.

To empower Catholics with information technology skills to support parishes in the implementation, maintenance and support of parish software and hardware needs.

Call ST. JOHN BOSCO INFORMATION MINISTRY (808) 943-7088 • (800) 505-6279
Email: OmniPCS@aol.com / SaintMichael@hawaii.rr.com

"Empowering all Catholics, especially the youth and young adults, the use of technology to support parish work".

Saint John Bosco Oratory Project is a Catholic technology information support center for parish staff, young adults and youth !
The special teaching methods of St. John Bosco: Realizing that giving bread to a hungry boy was only a temporary solution, Don Bosco developed what was actually the first "job placement" program in industrialized Europe. He developed practical ways to help young people help themselves. He did this through a program of "play - learn - pray". He replaced evil with reason, religion and kindness. He pioneered trade and technology schools. His methods worked a hundred years ago and they work today... on every continent and in every culture .....

Strengthening their Faith! Learning with technology! Building their skills for God! Fostering vocations!