EVENTS IN THE DIOCESE OF SAN JOSE

YOU ARE INVITED to attend a seminar discussion on how to grow your parish community. This event is open to all pastors, parish staff, and volunteers.


Day : January 24, 2006
Time: 9:30 to 11:30 am
Place: Diocese of San Jose, Chancery Office. St. Joseph's Room, 3rd Floor.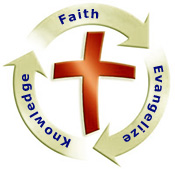 "Technology in Evangelization" Series

10 STEPS TO GROW YOUR PARISH COMMUNITY
People - Technology - Strategy - Purpose
In a 'too busy, not enough money and not enough time' world, many families are putting their priorities in areas that have the greatest impact and needs in their lives. Community messages are constantly delivered to them using the latest and most effective communications technology tools to help them in their day to day decision making process.
In this presentation, you will learn how to use very effective tools and strategies that will help your parish become an important daily priority in the lives of your parishioners. How? By simply using basic, inexpensive and effective communication tools to guide the parishioners towards a relationship with the parish that becomes one of their central priority. focus and frequent activity in their lives. From the pulpit, direct mail , door-to-door , radio , television, Internet and email tools , the communications strategy of delivering the Gospel has changed significantly and dramatically how it can impact your parishioners. Pastors can successfully deliver their messages more frequently and more effectively by learning some basic tools available today.
Learn to use the right technology tools to communicate more frequently by empowering your parish staff and developing a simple week by week program to deliver even more efficiently and more effectively the mission of your parish family.

DIOCESE OF SAN JOSE
Coming soon to other Dioceses !

Training dates will be announced for 2006
GROW YOUR PARISH COMMUNITY SERIES !
Community Technology Strategy Purpose
How to build a Web Ministry
What is a "E-Community of Faith"
Parish Newsletters and Parish Movie Nights

Training dates will be announced for 2006
FREE LIVE ON-LINE WEB SEMINARS
Windows XP - Basic Commands 101 !
Microsoft Excel - Manage your lists efficiently !
10 STEPS TO GROW YOUR PARISH COMMUNITY
People - Technology - Strategy - Purpose
Presented by Thomas Pereira
Catholic Technologist and Lay Ministry Leader
Omnidata Corp
Developers of "PCS" Parish Computer System
Parish Ministry Growth and Support Activities
1-800-800-GROW (4769)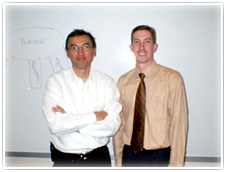 Dec 7th 2005 Thank you to all the parishes who attended our series and to
Nathan Stockmaster , Office of Stewardship Diocese of San Jose (right) with
Thomas Pereira, presenter of "GROW YOUR PARISH COMMUNITY" series.

PCS (Parish Computer System) will allow you to organize information between the parish and parishioners in the most efficient way possible and take care of many future data management and communication needs of your community. It will certainly help you with tracking a multitude of activities, ministry management, email broadcast, credit card donations, facility scheduling, volunteer management, including tracking your parishioners with their contributions, pledges, fees dues and countless features. PCS is the COMPLETE PARISH MANAGEMENT TOOL in ONE SINGLE POWERFUL DATABASE