PARISH COMMUNITY GROWTH....
Grow Your Catholic Community with the
Best Parish Contact Management Tool

PARISH COMPUTER SYSTEM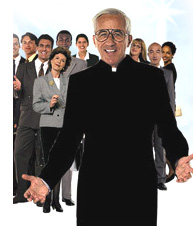 The most powerful and the most complete Catholic Parish Management system will take your parish into the future!
Staying on the cutting edge of technology for your parish and school requires you to simply have the best management software. With Parish Computer System PCS, you will always be on the cutting edge because we are simply the best! Finger printing, volunteer tracking, education, photo, scanning, reports , security levels, medical information, classes, donations, email, reports, ministries, facilities scheduling, calendars are just some of the hundreds of benefits you will received from PCS. It is the most comprehensive system available.
OMNIDATA developed the PCS system specifically for the Catholic Church and for over 10 years it has been successfully implemented in the Archdiocese of Los Angeles, Santa Barbara and San Diego.
PCS utilizes the power of Microsoft Office to manage all parish activities. The complete PCS functions keep your parish data management centralized and highly functional in all the activities of the parish and school. The modules of PCS are all linked to a central database in your office making it highly effective in processing critical information of your parishioners, students and their families. By utilizing PCS, you can access needed information in a matter of seconds!
PCS is a complete solution for your parish and school:


Census & Education Program

Stewardship Tracking

Ministries Schedule

Facility Schedule

Credit Card Donation Processing

Email Communicator

Diocesan Interface

Accounting and Finance
PCS - is not just software.....is the best investment your parish and school can make!
Take parishioners relationship management and YOUR PARISH GROWTH into the future!

For a free demonstration, call us at 1-800-800-GROW / 1-800-800-4769 1-800-634-OMNI

Visit www.OmniPCS.net