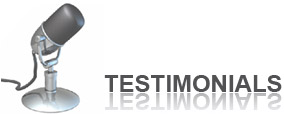 SEE WHAT EVERYONE IS SAYING ABOUT PARISH COMPUTER SYSTEM
"The new system is a lot better. PCS has everything we need to keep track of an active parish." - Vincent Guerrero, Holy Family
"I strongly encourage all parishes to implement this Parish Computer System. The use of a common program will enable parish staffs to assist each other and to create a common approach to managing parish data." –Cardinal Mahoney
"PCS is an open system—that is, we can add to it at anytime. It's very flexible and is a single parish database for all parish activities and organizations." –Larry McGovern
"People at all different skill levels can use it effectively." –Bishop Curry
"It is designed to handle parish and school accounting, budgeting, census, capital campaigns and sacramental records." -Cardinal
Roger Mahoney, Archbishop of L.A.
"Parishes continue to come aboard and the diocesan office supports parishes by having user groups who come to get assistance (with PCS)." -Rod Valdivia
"PCS helps to unify communication between different parts of the parish." -Larry McGovern, President, OmniData
"It's a huge timesaver and the best program that I've ever worked with. I have all kinds of information at my fingertips now." - Kathleen Hoverter, Immaculata
Parish Administrative Asst. (Calif.)
"PCS is a customization of Microsoft Office that can be upgraded easily." -Bishop Thomas Curry, Santa Barbara
"We've been looking at different systems for 10 years, but never saw anything that attracted us until PCS." -Rod Valdivia, Diocesan Vice Chancellor, San Diego
At COSMO ENTERPRISES, we understand that a company is only as good as its customer satisfaction. That's why we take an active interest in what our customers have to say.